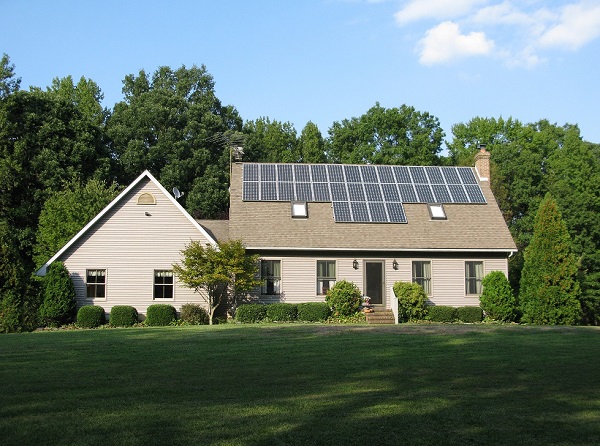 Latest Update: April 2018
by Simone Garneau

You've decided you want to install solar panels on your roof. You've talked with installers, compared quotes, and you're ready to move forward. But now you need to figure out how to finance your solar system. Unlike in the United States, where there are many different ways to finance your solar panels from zero-down solar loans to rolling the cost into your property taxes, in Canada there are very few options available to homeowners. Not only is this a point of frustration for homeowners, but it is also a hurdle for the solar industry. Solar installers want to better help their customers make the transition to solar energy. "Financing is certainly something that remains a challenge in Canada," according to Kevin Bergeron, President and CEO of MiEnergy in Saskatchewan.

Solar panels come with a hefty price tag, on the order of $3/watt or $15,000 for an average size 5 kW system. Most homeowners don't have the means to pay for their system outright. Given that solar panels have an average lifetime of 25-30 years, sometimes longer, homeowners are looking for ways to spread the cost out over a good portion of this time.

In Canada, a number of the big banks offer loan products geared towards green renovations, but the terms for these products are not always favourable. Wide adoption of residential solar energy is at the very early stages in Canada, and so our understanding of how these systems work and of the economics of investing in solar energy is not widespread. "What we need is an innovative financing solution, one that allows homeowners a simple transition to solar energy," according to Joshua Persaud, Regional Manager at Empower Energy in British Columbia.

In many provinces in Canada, electricity from solar panels is the same or less expensive than electricity from the local utility (we call this grid-parity) meaning that over the lifetime of your solar system, you will save money with solar energy. And as electricity prices increase, those savings also increase. In provinces where electricity is still fairly inexpensive, like Quebec, it would take some combination of higher electricity prices, lower system costs, and additional solar rebates, to make solar electricity more affordable compared to electricity from the grid (yet, even in Quebec, we're not that far from grid parity).

Despite the challenges, more and more Canadians are turning to solar energy as a viable option for reducing their electricity costs and their carbon footprint (to make the most of your investment, we further advise homeowners to also investigate ways to reduce their energy consumption). Let's take a look at some different solar financing options across Canada.


Personal Loans
At most of the big banks in Canada, qualified homeowners can opt for a personal loan to cover the costs of their solar system. RBC, for example, offers the
Energy Saver Loan
for eligible energy-efficient products or services, including solar panels. With this product the loan terms range from 5-10 years. As Persaud states " the downfall is the lack of long-term financing."
Scotia Bank
and
ATB Financial
(in Alberta) go a step further with their solar loan products, offering term options up to 15 years. In comparison, homeowners in the United States are eligible for loans with 20 year terms from companies that specialize almost entirely in solar financing.
Financing through solar installers
The zero-down solar loans, mentioned above, that are available in the United States, are generally offered through the solar installation companies. This makes the whole process considerably easier for both the homeowner and the installer, who is less likely to lose a sale due to lack of financing options. The "zero-down" part of this loan is possible because homeowners in the U.S., unlike in Canada, are eligible for a 30% solar investment tax credit from the federal government (the solar financing companies rely on this tax credit being passed onto them as soon as it is approved, generally within 18 months). Some installers in Canada have turned to outside financing companies to help their customers cover the costs of going solar. "We recommend our customers look at FinanceIt as another option," says Bergeron. With
FinanceIt
, solar companies like MiEnergy can direct their customers to an application page on the FinanceIt website to see if they qualify for a short-term loan, on the order of 12 months. While this option can be helpful, the short term nature of the loan and the higher interest rates make it less desirable. Nani Pradeepan, Managing Director of
New Dawn Energy Solutions
in Markham, Ontario offers his customers the option to finance their solar system through FinanceIt but it's not his first suggestion. "When our customers need a loan, we advise them to first look into a home equity loan because they can finance it at a lower rate," says Pradeepan.
Home Equity Loan or Home Equity Line of Credit
Another option for homeowners is to take out either a Home Equity Loan (also known as a second mortgage) or Home Equity Line of Credit (HELOC), both of which are designed for larger expenses. With these products, homeowners can borrow up to 80% of their home's value. Because these types of loans are secured against the value of your home, the interest rate is generally more favourable than for a personal loan and the loan term can be as long as 25 years. Please note that these are two different products, however, where the home equity loan is for a specific amount, with a fixed payment plan and the possibility of a fixed interest rate, whereas a HELOC is available as needed with a variable interest rate that is linked to the prime rate at the time of borrowing. A disadvantage of these products is that because they are secured with your home, homeowners must usually have a home appraisal to qualify, something that can be costly and take some time to complete.
Property Assessed Clean Energy (PACE) Financing
PACE financing originated in California in 2008 as a means for property owners to finance their solar panels (and other clean energy related home or business retrofits) through their property taxes. It has spread to many municipalities across the United States, and according the the
U.S. Department of Energy
"as of 2017, over 150,000 homeowners have made $4 billion in energy efficiency and other improvements to their homes through PACE financing." PACE financing, while administered by municipalities, is primarily the result of private capital investments, not government funding, as investors seek secure long term investments. Given it's popularity and success, a number of Canadian municipalties have adopted similar legislation, allowing more homeowners to make clean energy upgrades.
The
Halifax Solar City Program
is an innovative program, only available to homeowners in Halifax. The program allows homeowners to enter into an agreement with the municipality to repay the cost of their solar system with annual payments over 10 years at a fixed interest rate of 4.75%. Similar to the Property Assessed Clean Energy (PACE) programs available in some U.S. states, the loan is tied to the property and not the homeowner, meaning that most homeowners who are up to date on their property taxes are eligible. However, unlike with PACE financing in the U.S., where the loan is passed onto new owners, the Halifax Solar City loan must be repaid in full if the home is sold. The program has helped make it easier for more homeowners in Halifax to transition to solar energy. Due to its popularity, other Nova Scotians may also benefit from financing programs inspired by the Halifax Solar City program. According to Tom Rendle, Partner at
WattsUp Solar
in Nova Scotia, "the program itself has motivated other counties in Nova Scotia to follow suit and offer similar options."
In Toronto, the
Home Energy Loan Program (HELP)
is modeled on PACE financing, allowing homeowners access to low-interest loans up to $75,000 to finance their home energy upgrades. Interest rates as low as 2% and terms up to 15 years, make HELP financing a very attractive option for homeowners considering solar panels. To qualify for HELP financing homeowners must get a home energy audit by Energy Advisor registered by Natural Resources Canada as part of their application.
Alberta recently introduced
PACE legislation
allowing municipalities in that province to set up PACE financing programs. Soon homeowners in a number of Alberta municipalities, including Calgary and Edmonton, will have a new means to finance their solar panels, through their property taxes. Like PACE financing in the U.S., the loan repayments will remain with the property and if it's sold, they are passed on to the new owner. The legislation is expected to come into effect in early 2019. As new details become available, we will provide updates here.
In conclusion, even though we, in Canada, don't yet have the plethora of solar financing options available in the U.S., homeowners still have some options available to help them transition to solar. While solar installers would like to be able to offer more affordable solutions to their customers everywhere in Canada, we're not quite there yet. "For the most part our customers coordinate financing through their own sources, as the rates are most often more competitive," according to Bergeron. However, as solar adoption grows in Canada, the solar financing landscape is likely to evolve. In addition to dedicated solar financing companies working in partnership with installers, we may also see more Canadian municipalities offering Property Assess Clean Energy (PACE) financing as an option. Whatever the case may be in the coming years, interest in solar energy continues to grow in Canada, and despite the limited solar financing options available today, more and more homeowners are choosing to go solar.
Spread the solar goodness: please share this resource with your friends and family.